Where does a healthy lifestyle start? With your eating habits. Unfortunately, habits are sometimes the hardest obstacle to tackle.
If this sounds like you, then you've come to the right place. Our new protein shakes are packed with everything you need and, most importantly, nothing you don't. Our whey shakes are a great source of complete protein and are absolutely delicious! Available in our Vava Vanilla or Chocolate Coco Crème flavors that are just so thick and rich, they even taste great when you mix them with water.
Are you drooling yet?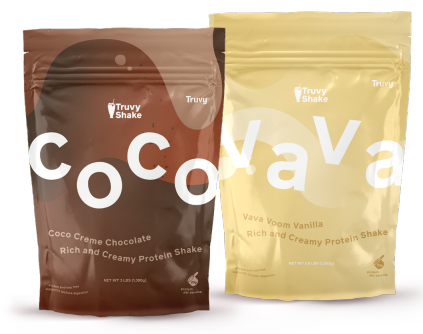 How to Use Truvy Shakes
Drink Truvy Shakes as a start to your day, or anytime during the day! Drink before and after a workout or use as a base in a smoothie or mix with your favorite milk, almond milk or yogurt. Truvy Shake is a powerful support for: satiety, healthy snacking, and building and maintaining muscle when combined with exercise.
Oustanding Benefits
• Feel fuller longer*
• Helps build & maintain muscle after exercise*
• Healthy fiber for a healthy gut*
Our Key Ingredients
• 20 g of high quality whey protein per 8 oz serving
• Lactase for lactose digestion support
• Good source of fiber
• Only 6 net carbs
• Low sugar
• Gluten and soy free